In today's competitive ecommerce landscape, advertising has never been more difficult. Recent changes, including iOS 14 updates that restrict campaign tracking capabilities, have made measuring the success of upper funnel campaigns incredibly challenging. Without proper attribution and accurate single-source data, it's all but impossible to optimize the path to conversion.
We built Atrilyx to provide a better way forward.
Here are 3 key ways our marketing attribution software can help your ecommerce business thrive.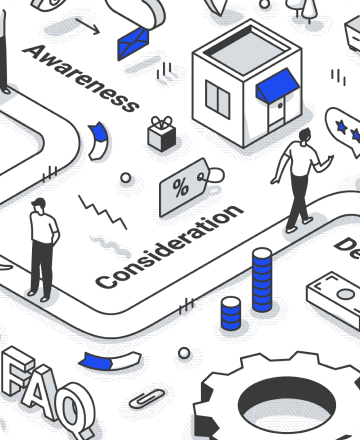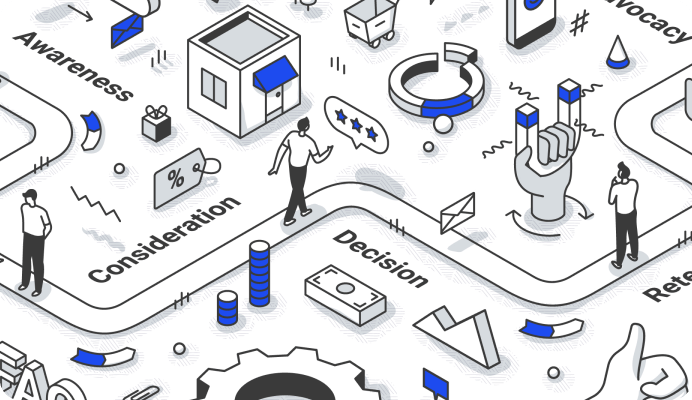 1. Full Funnel Customer Journey Mapping
In order to efficiently track, manage, and optimize your marketing funnels, you need to know exactly what customers are doing at each stage of the journey. If you leave attribution to guesswork, you may windup allocating your time, budget, and other resources to the wrong channel or part of the funnel. Our state-of-the-art assisted attribution solution can help you avoid that.
Here's a recent example: During a 2022 collaboration with an Ecom client, Atrilyx's customer journey mapping helped determine that Organic Performance was being improperly given credit for success driven by Streaming, Social, and Programmatic Display. This insight contributed to an eventual +75% lif t in cross channel ROAS and a +5% lif t in AOV.
Put simply, the ability to map your customer's journey throughout the entire funnel has a real impact on the success of your campaigns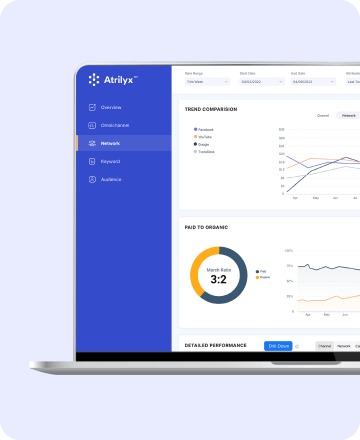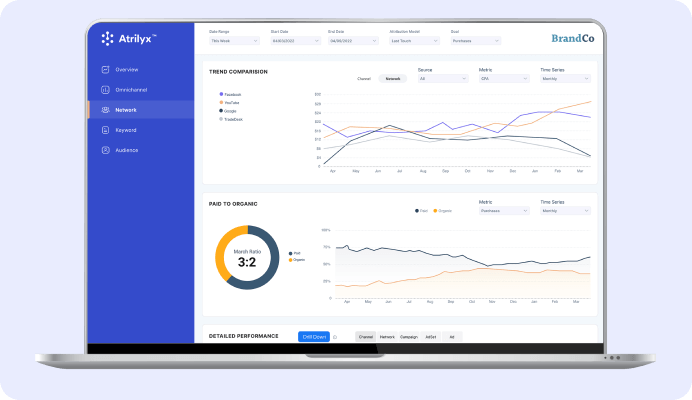 2. User-Friendly Dashboard and Powerful Single-Source-of-Truth
Leveraging proprietary pixel-based marketing attribution technology, Atrilyx compiles attribution data from various customer journey touchpoints across multiple channels and puts these actionable, high-ROI insights right at your fingertips.
In an industry that is increasingly turning towards omni-channel distribution, this type of accurate, single-source data is required for creating seamless customer experiences that nudge your customers closer to a sale or other positive action. As surely as customer journey mapping and marketing attribution help you track campaigns and decipher past results, having accurate single-source data enables you to take the next steps forward.
Rather than relying solely on past results, you can immediately use data extracted from campaign touch points to make informed decisions and improve the path to conversion.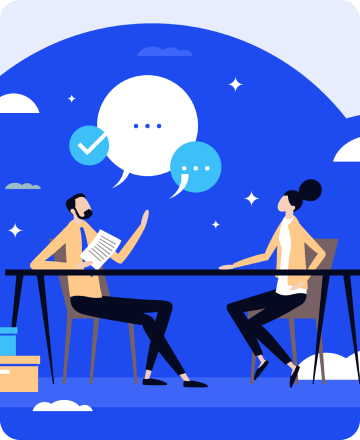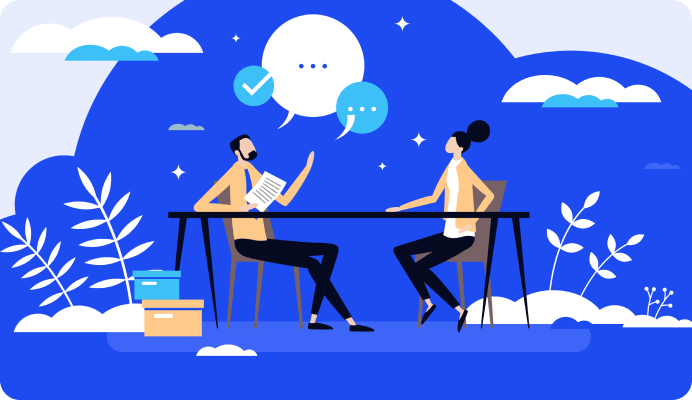 3. Expert Support from Growth Marketing Specialist
Our marketing attribution sof tware is backed by innovative, industry-leading technology, with a pixel that automatically collects data and generates accurate insights throughout your campaign. With that said, even sof tware with the most advanced assisted attribution capabilities on the planet cannot fully replace the outside-the-box thinking of an experienced growth marketing professional.
That's why we back up our powerful tech solution with real human insights and provide every user with a dedicated expert for strategic advice and support. In other words, we don't just provide you with the insights required to attribute all touch points, optimize the path to conversion, and improve CPA and ROI – we provide you with expert-led strategies for holistic campaign improvements and better ROAS.
Take ecommerce advertising to the next level with Atrilyx today.
Schedule your free expert-led assisted attribution demo below to get started.